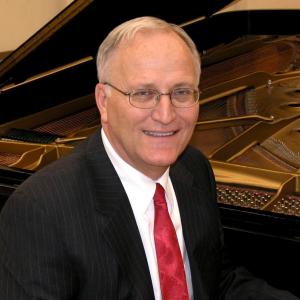 Music Bldg, Room 160
520-621-6675
BA, Brigham Young University
MMus, University of Arizona
JD, Arizona State University
Rex Woods, pianist, has performed in the United States, Canada, Mexico, France, China, and Australia, but is best known to regional audiences for his frequent artistic performances as both a soloist and chamber musician. He has collaborated in recitals and recordings with such musicians as: Faye Robinson, soprano, and Richard J. Clark, baritone; cellists Gordon Epperson, Nancy Green, and Pamela Frame; violinist John Ferrell; violist Hong-Mei Xiao; saxophonist Harvey Pitell; and trombonist Donald Knaub.
He has been heard in concerto performances with the Tucson Symphony Orchestra, the Catalina Chamber Orchestra and the University of Arizona Symphony Orchestra. He appears frequently with duo-piano partner Paula Fan in recital and concerto performances. He is a member of The Bruch Trio along with Jerry Kirkbride, clarinet, and Jessie Levine, viola. The trio may be heard in two recent recordings on the Summit label. Mr. Woods received his musical education at Brigham Young University, the University of Arizona, the University of Southern California, and the American Conservatory at Fontainebleau.
His teachers included Mae Gilbert Reese, Reid Nibley, Richard Faith, Brooks Smith and Gwendolyn Koldofsky. He was awarded the Otto Guth Memorial Award from the San Francisco Opera Center for excellence in vocal coaching and was the recipient of the Premier Prix de Fontainebleau in chamber music. Mr. Woods holds the degree of Juris Doctor from Arizona State University. He has served on the faculties of the University of Texas at Austin and the Interlochen Center for the Arts. Since 1988, he has taught at the University of Arizona.
More: