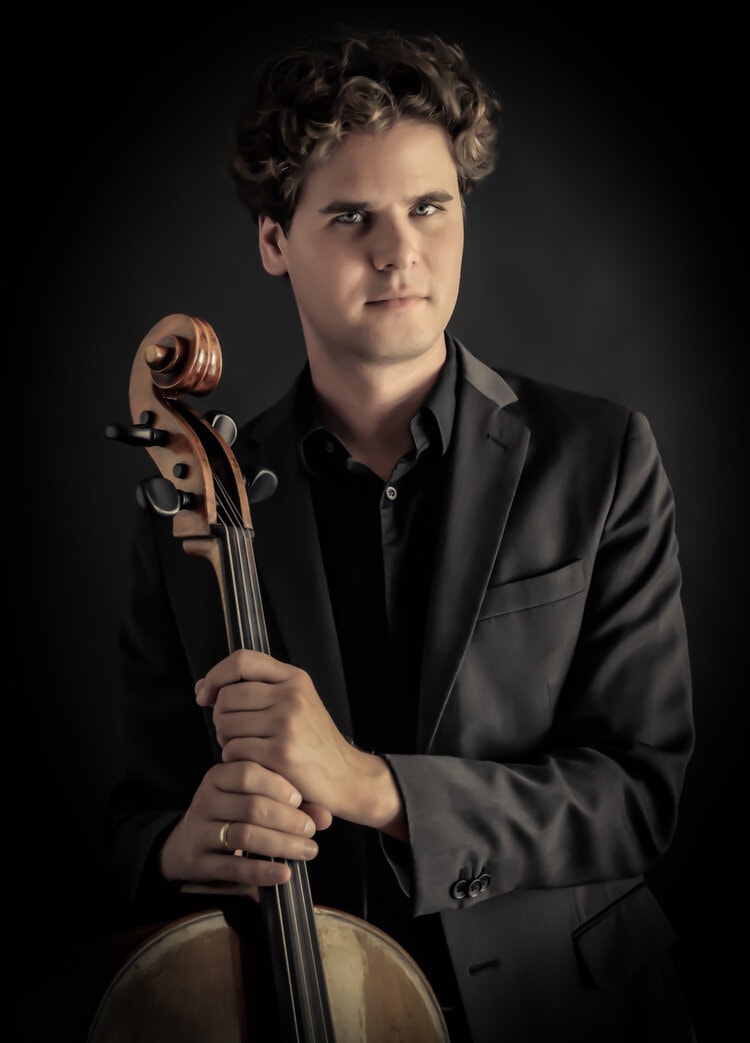 Theodore Buchholz
Associate Professor, Music
Music Bldg, Room 217
520-621-7012
Critically acclaimed for his "eloquent and expressive artistry," Theodore Buchholz has been lauded as a "virtuosic cellist" with a "warm beautiful sound." He has performed in prominent venues from New York's Lincoln Center to international halls in Tokyo, and in countless venues across the United States. His performances and recordings have aired on classical radio stations around the world. He performs on an exceptional cello made in 1877 by Charles Mennégand.
Buchholz's album Afterglow: The Forgotten Works for Cello and Piano by Henry Hadley was released by Centaur Records in 2020. Earning the coveted five-star rating, Fanfare Magazine stated "Afterglow displays the composer's rich harmonic language, and allows Buchholz to show off his impeccable phrasing during which he caresses each note. Its turns of phrase could simply not be more beautifully conceived and executed. Five stars: An exceptional recital of unjustly neglected music." His recording of Hans Winterberg's Cello Sonata was released under the Toccata label in 2018. Music for a Prince was released by Toccata Records in 2021, featuring the world premiere of works for cello by Lennox Berkeley, Arthur Bliss, and William Walton.
Dr. Buchholz's current and former students perform in orchestras and chamber ensembles around the country and they teach in schools and private studios around the world. His students have received scholarships from competitive conservatories and have won awards in national chamber music and solo competitions. They have appeared on NPR's From the Top, as soloists with orchestras, and at leading music festivals. Theodore Buchholz is the recipient of the Taubeneck Superior Teaching Award. In 2022, he received the Charles and Irene Putnam Award, the College's most prestigious recognition of excellence in teaching.
As a nationally recognized researcher, Dr. Buchholz's upcoming scale book will be published and internationally distributed by Mel Bay in 2024. This book will be the most comprehensive, pedagogic cello scale book published. He served as the Cello Forum Editor for the award-winning journal American String Teacher. He has been published in the Journal of Historical Research in Music Education and American String Teacher, and annually presents at national conferences. His current research is focused on pedagogy, historical cello treatises, and leadership.
A fervent believer in the power of music education to transform lives and communities, Dr. Buchholz is the Director of the University of Arizona String Project. This program employs twelve university music majors and offers private lessons and ensemble rehearsals to seventy K-12 students. Through the endowment of a generous donor, this program enables free private lessons to community students who might otherwise have no exposure to music education. The String Project website is stringproject.music.arizona.edu.
A leader in music education, Buchholz was the head of strings at the University of Arizona for seven years. During that time, he elevated the profile of the program on both the state and national level, significantly raised recruiting numbers, chaired string search committees, built and directed the chamber music program sending ensembles on international tours and to national competitions, created the monthly UA Strings Newsletter that regularly connected with 300 Arizona string teachers, and worked with a donor to create two annual competitions that celebrate excellence in string performance and promote repertoire by underrepresented composers. In 2018, he received the College of Fine Art's Excellence in Fundraising Award.
Buchholz founded the Tucson Cello Congress in 2009, and directs this event that annually brings 100 cellists to the UA for a weekend of concerts and master classes. From 2014-16, he served as President of the American String Teachers Association of Arizona raising membership by twenty-five percent and increasing the annual number of events. He is a member of The Recording Academy (the Grammy Awards).
During the summers Dr. Buchholz performs and teaches at the Killington Music Festival in Vermont (killingtonmusicfestival.org), and at the Zephyr Music Festival in Courmayeur, Italy (zephyrmusicfest.org).
His principal teachers include Bonnie Hampton, Sadao Harada of the Tokyo String Quartet, Robert Jesselson, and Nathaniel Rosen.