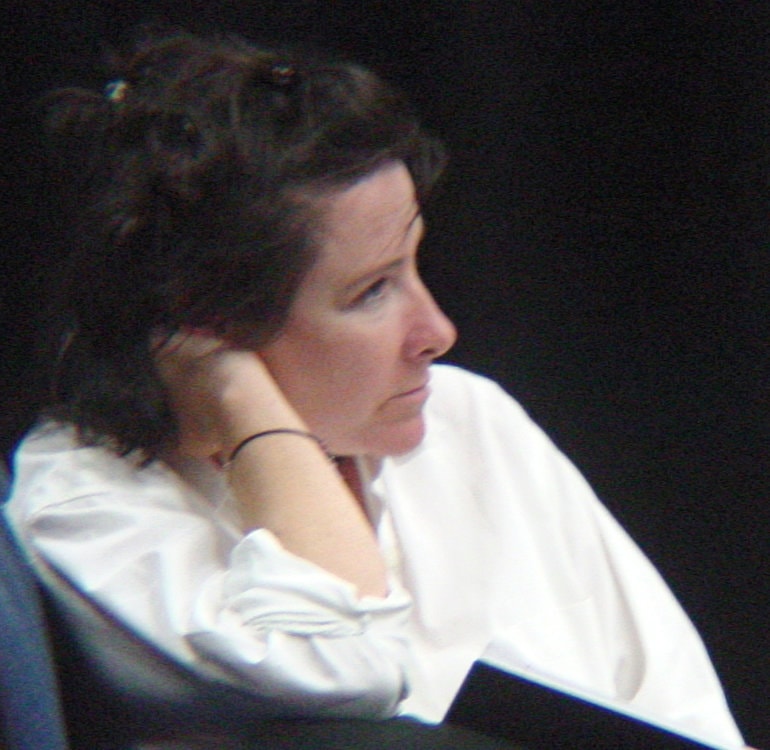 Cynthia S Stokes
Assistant Professor, Music
Music Bldg, Room 229
520-626-0322
M.F.A. University of California at San Diego
Stage and opera director Cynthia Stokes has devoted her professional career to creating provocative and thrilling productions across America. Her work has been praised for, "clear story-telling, theatrical sensibility and ashaving existential depths and evoking mythical resonance," by the Philadelphia Inquirer; and, "funny and moving…The depiction of love and infidelity amid a troupe of traveling players was nimbly done, as was the fatal confluence of illusion and reality…" by the San Francisco Chronicle.
Up next for Ms. Stokes is a site-specific installation of the late Mexican composr Daniel Catán's La Hija de Rappaccini which will be presented on the campus of The University of Arizona in the outslide lobby of ENR2. Other upcoming projects include a collaboration with composer Michael Ching for Amarillo Opera's production of Speed Dating. Recent productions include: her new translation of Thamos, King of Egypt(Mozart)for Mainly Mozart, Orpheus in the Underworld for The University of Arizona and St. Francis de los Barrios for San Diego CITY Opera.
Ms. Stokes is the Artistic Director of San Diego CITY Opera, San Diego's newest opera company dedicated to encourage San Diegans to see their community in new positive ways by presenting opera in site-specific locations throughout the city. CITY Opera's first production, Queen of Carthage,a contemporary retelling of Dido and Aeneaswas part of La Jolla Playhouse's Without Walls Festival in October 2015. Music critic Jim Chute said," they got to the beating, beautiful, timeless heart of Purcell's 1688 masterpiece. Their 45-minute reduction of Purcell's "Dido and Aeneas," was an inspiration. In the spring of 2016 she staged Dominick Argento's song cycle The Andrée Expedition with three singers in an abandoned factory. Music critic Pam Kragen said, " Stokes ends the engrossing piece with a surprising and moving theatrical flourish that features a soulful and stylish reunion of the dead and dying. Opera is at its best when it's visceral, and City Opera's imaginative conception of the tragic, true story of the Andrée Expedition has proven to be a natural."
Directing highlights include: Silent Night for Piedmont Opera this fall; The Rape of Lucretia for University of Arizona's Opera Workshop; Rigoletto for Opera Las Vegas, A Midsummer Night's Dream (Mendelssohn) for Mainly Mozart; La Hija de Rappaccini for Alamo City Opera; Coping Mechanisms for New York's Rhymes with Opera, and a new production ofThe Andrée Expedition for The Vermont Opera Project.South Pacific, Madama Butterfly and The Crucible for Piedmont Opera; Handel's Acis and Galatea, Ricky Ian Gordon's Orpheus & Euridice, Robert Xavier Rodriguez La Curandera for San Antonio's Opera Piccola;The Italian Straw Hat for Amarillo Opera; Le nozze di Figaro for San Antonio Opera; Pagliacci for Opera San Jose. While at Glimmerglass Opera, she directed Le nozze di Figaro (cover cast) and staged members of The Young American Artists Program in Killer B's, a cabaret-style celebration of American composers whose last names begin with the letter 'B'; Roméo et Juliette for San Diego Opera; Madama Butterfly for Opera Company of Philadelphia; Homies and Popz (tour)for Los Angeles Opera; Margaret Garner for Cincinnati Opera and Opera Carolina.
Ms. Stokes has collaborated with some of America's most exciting composers and librettists including: Richard Danielpour and Toni Morrison on Margaret Garner for Cincinnati Opera and Opera Carolina, For Los Angeles Opera she co-wrote and directed Murder at the Opera with composer Edward Barnes. Schirmer Music publishes the opera. Ms. Stokes background of collaborating with writers, composers and visual artists led to Music and Art of Fin-De-Siècle Vienna for the Los Angeles Philharmonic.
An accomplished theatre director her work has been seen at American Conservatory Theatre, The Old Globe, The Piccolo Spoleto Festival, Wellfleet Harbor Actor's Theatre and North Coast Rep. Ms. Stokes has also been on the directing staff at Dallas Opera, Glimmerglass Opera, Michigan Opera Theater, Opera Pacific and The Florentine Opera.
Grants for Ms. Stokes include: A Qualcomm Ideas Grant for a workshop of St. Francis de los Barrios in 2017, New York Foundation for the Arts Artist in Residence Grant, Opera America Travel Grant, The Lotta Crabtree Foundation Grant, Minnesota Opera's New Music Theatre Ensemble Grant and A Quinn Martin Directing Grant.
Deeply committed to encouraging the next generation of artists and audiences, Ms. Stokes started La Jolla Playhouse's Summer Conservatory and San Diego Opera's Summer Opera Institute. Ms. Stokes is currently on faculty at The Taos Opera Institute and served as an NEA panelist for opera. She has also been a panelist for San Diego's Commission for Arts and Culture. She holds a B.A. in Theater from Colorado State University and an M.FA., in Directing from the University of California at San Diego.