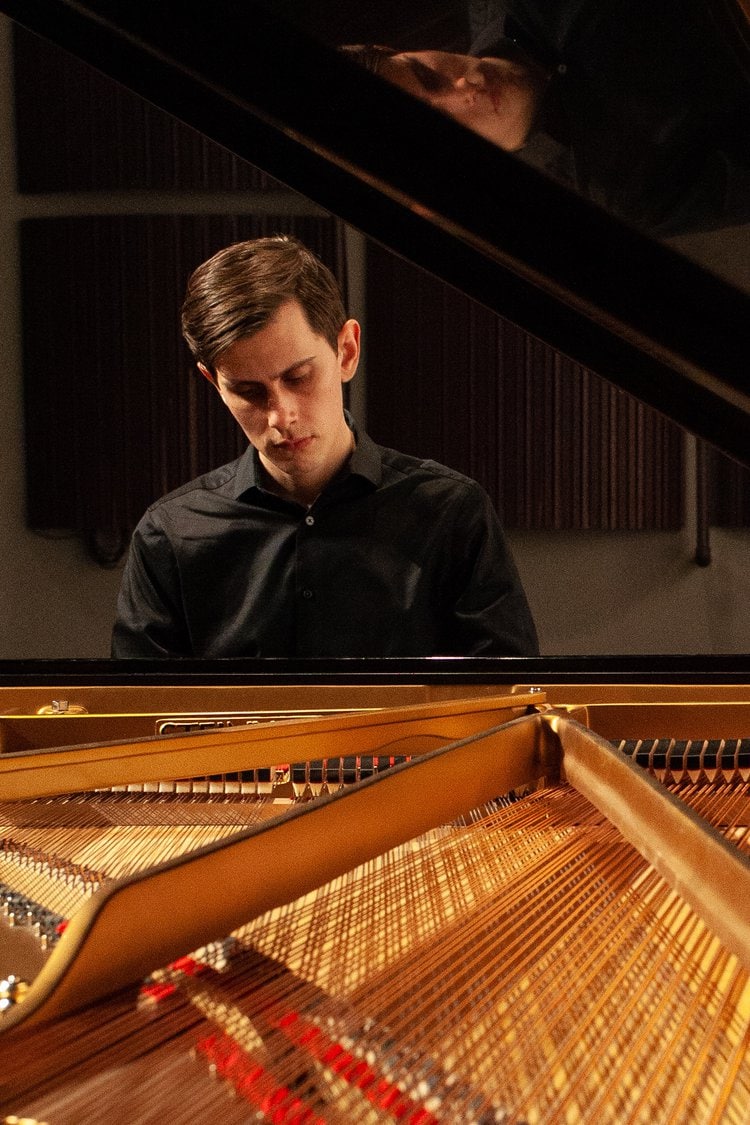 Assistant Professor, Music
Music Bldg, Room 201
520-621-1389
D.M.A. Piano Performance, University of Southern California (2019)
M.M. Piano Performance, University of Arizona (2014)
B.M. Piano Performance, Northwestern University (2012)
B.A. History, Northwestern University (2012)
Daniel Linder is a pianist and teaching artist based in Los Angeles, CA and Tucson, AZ. He has performed solo and collaborative recitals to high acclaim in venues across the United States and in France and Denmark, and recordings of his performances have aired on KUAZ Classical Radio in Tucson, Arizona. Recent accolades include the 2018 Fresno Musical Club Susan Torres Award (first prize), and prizes in the 2017 James Ramos International Competition, the 2015 Seattle International Piano Competition, the 2014 Los Angeles International Liszt Competition, and the 2014 Lois Trester Piano Competition at the University of Arizona.
Equally dedicated to traditional repertoire and lesser-known 20th- and 21st-century works, his programs pairing contemporary repertoire with the older canon have been well-received in recitals and competitions. He recently presented a lecture recital on Maurice Ohana's mature style and performed Ohana's first book of etudes, the Six Études d'Interprétation at the University of Southern California. After presenting his research on Ohana at the 2018 USC Graduate Research Symposium, he was awarded first prize for research in the Humanities.
Dr. Linder was recently named outstanding graduate (Class of 2018) by the Keyboard Studies Department of the University of Southern California's Thornton School of Music. Before moving to Los Angeles to complete his D.M.A. in piano performance, he earned a M.M in piano performance from the University of Arizona and a B.M. in piano performance and a B.A. in history from Northwestern University. His principal teachers are Bernadene Blaha, Dr. John Milbauer, Alan Chow, and Dr. Rose Chancler. Daniel grew up in Westport, New York, where he attended Westport Central School.
Daniel has spent multiple summers of concentrated music study at the Chautauqua Institution Music Festival in Western New York. In July 2014, he gave performances in East Hampton and Southampton, NY as a participant of Pianofest in the Hamptons. In Summer 2015, he performed at the Académie de Fourvière in Lyon, France, funded by a grant from the International Festival Society, and performed a solo recital at the Rønnebæksholm in Næstved, Denmark. In June 2017, he was awarded a full scholarship to attend the Art of the Piano Festival at the University of Cincinatti-College Conservatory of Music. He has performed in master classes for Emanuele Arciuli, Jeremy Denk, Stephen Hough, Jerome Lowenthal, Anton Nel, Rebecca Penneys, and Nelita True, among others.
In Fall 2018, Dr. Linder joined the University of Arizona as Assistant Professor of Music in Piano, where he teaches applied lessons in piano and a seminar in piano literature. While completing his doctoral studies at USC, he taught piano majors as the Keyboard Studies Department studio teaching assistant, and taught applied lessons and group classes to music majors and non-majors. He taught group piano to undergraduates at the University of Arizona and was named Outstanding Graduate Teaching Assistant for the UA College of Fine Arts in Spring 2014. He has presented lectures on piano pedagogy and music teaching and learning at state and national conferences of the Music Teacher's National Association (MTNA), and he recently published an article on strategies for memorization in CAPMT Connect, the Journal of the California Association of Professional Music Teachers (CAPMT).
Please visit www.drlpianist.com for more information, recordings, and performance schedule.