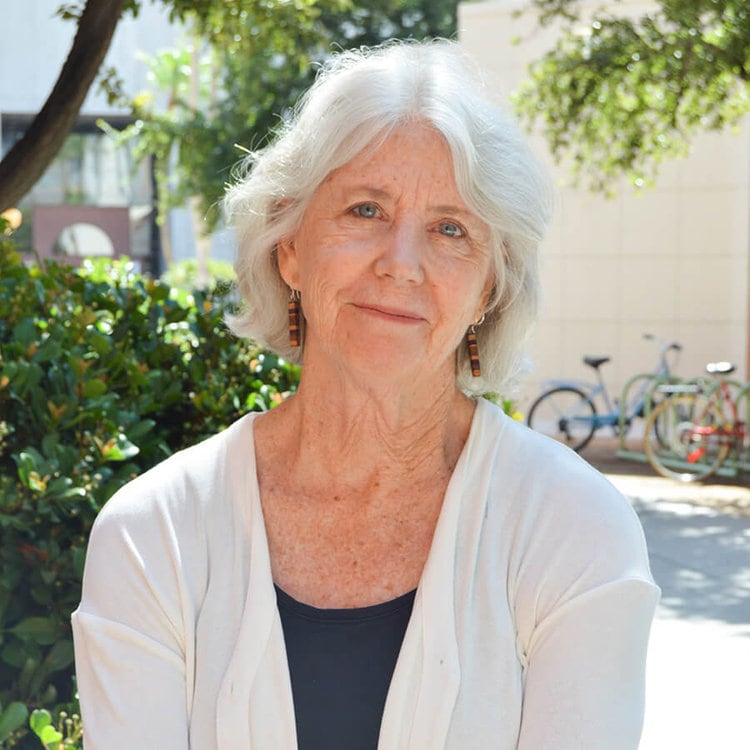 Ellen McMahon
Associate Dean
Professor, Applied Intercultural Arts Research – GIDP
Professor, Art
Art Bldg, Room 207D
520-621-1493
MFA – Vermont College, MS – University of Arizona
Ellen McMahon uses a range of media (artist books, writing, painting, drawing, photography, design and video) to investigate the relationship between visual art, daily life, and the ways we frame and study social and environmental problems.
McMahon came to the University of Arizona in 1980 to study Scientific Illustration (MS in Biology 1983). After several years of professional experience as an illustrator and graphic designer, she received an MFA in visual art (Vermont College, 1996) and was hired in a tenure track position in the UofA School of Art. Between 1990 and 2005 her work addressed the social and cultural construction of motherhood and the politics of intimacy in the mother-child relationship. Since 2005, fueled by her conviction that art and design are foundational in effecting positive change, she has developed a number of projects that support individual creative inquiry among her peers and students through interdisciplinary collaborations and partnerships with community organizations.
In 2007 McMahon received a Fulbright Fellowship to work as an artist/designer with the Center for the Study of Deserts and Oceans in Mexico and presented her work as a delegate to the World Design Congress (ICOGRADA) in Cuba. From 2010-2012, she served as initiator and director of a collaborative faculty research project focused on regional water, which included 29 participants from art, design, humanities, the natural and social sciences, as well as city and regional water managers. The resulting book which McMahon art directed and co-edited, Ground|Water: Interdisciplinary Responses to a Dry River received national and international design awards and has been collected by over 40 public institutions worldwide.
McMahon's artist books are in 15 public collections in several countries. Her visual work has been exhibited in numerous group exhibitions and in solo exhibitions "Redressing the Mother" at AIR Gallery in New York, "Maternal Matters" at Cal State San Marcos, and "In Nature | Of Nature | Perceptions of Place" at University of Wyoming. Her published writings include personal essays about motherhood, op-eds about design and the environment, and technical papers about scientific illustration. Her autobiographic essays are published in Mother Reader: Essential Writings on Motherhood (Seven Stories Press, 2002), The Oldest We've Ever Been: Seven True Stories of Midlife Transition (University of Arizona Press, 2008), and The M Word: Real Mothers in Contemporary Art (Demeter Press, 2010). Her design work is featured in Clean New World: Culture, Politics, and Graphic Design, (MIT Press, 2002) and Graphic Design: Sustainable Principles and Practices, (Bloomsbury Publishing, 2016).
More: