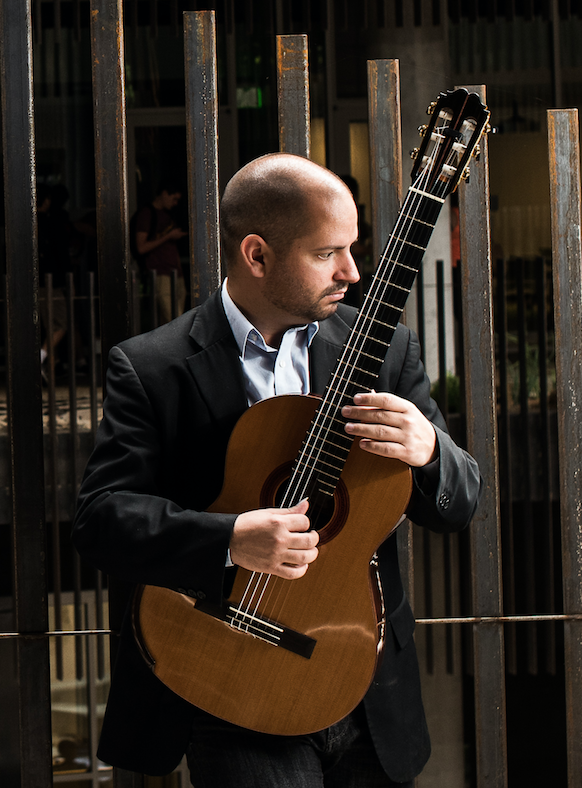 Jose Luis Puerta
Assistant Professor of Practice
Music Bldg, Room 246
520-621-9327
Dr. José Luis Puerta, DMA
Assistant Professor of Music
The University of Arizona
School of Music
www.joseluispuerta.com
http://arizonaalumni.com/article/musical-precision
José Luis Puerta received his Doctor of Musical Arts degree in guitar with a minor in Ethnomusicology from the University of Arizona as well as a Master of Music, and a Bachelor's degree in guitar performance from the Conservatory of Music in Puerto Rico. He also graduated from the prestigious Escuela Libre de Música Ernesto Ramos Antonini in San Juan, Puerto Rico.
As an ethnomusicologist, Jose Luis's emphasis has been in Latin American music, focusing on plucked strings ensembles such as the rondallas, trios, guitar quartets, and on their use as a pedagogical tool. He has presented his research at the Ciclo Sonoro in Universidade Federal da Integração Latino-Americana in Foz do Iguaçu, Brasil; Osher Lifelong Learning Institute; the Fourth International Symposium on Latin American Music in Tucson, USA; and the Society for Ethnomusicology Southwest Chapter in Flagstaff, USA. He collaborated at the Society for Ethnomusicology 61th Annual Meeting as session chair in Washington D.C. He has contributed two entries for the Sage International Encyclopedia of Music and Culture (2019)," Reguetón," and, "Lute Chordophones." Also, he contributed guitar arrangements for the textbook, The Course of Mexican Music, Routledge.
As a guitarist, he has performed in Puerto Rico, Festival Alfonso Ortiz Tirado in Mexico, Canada, Spain, and throughout the United States. He's been featured in the University of Arizona Alumni Magazine (Spring 2016), Acoustic Guitar (Fall 2017) and in Tucson Guitar Orchestra Strings Along, for Arizona Public Media. He has been invited to perform for the Treasure Coast Guitar Society and for the Sundays in the Garden concert series at Tohono Chul Park on numerous occasions as a duo, ensemble, and conductor. He is a founding member of Grupo Riken, a Tucson ensemble that specializes in folkloric music from the Caribbean and Latin America. Their repertoire includes genres like the Cuban bolero, Puerto Rican jibaro music, Latin jazz, and bossa nova. The group's unique sounds come from folk instruments like the Puerto Rican cuatro, guitar, Peruvian Cajon, Afro-Caribbean percussion bongos and congas, accompanied by the guitar.
In addition to his teaching, José Luis is currently the conductor and director of the Tucson Guitar Society Orchestra. The TGSO has performed throughout the state in Green Valley, Phoenix, and Flagstaff, and at the Phoenix Regional Symposium for the Guitar Foundation of America. José Luis has been an active board member for the Tucson Guitar Society since 2010.
In 2019 He founded the Tucson Guitar Quartet In Spring 2020 they release the album Latin American Soundscapes, which includes. two performances and recording world premiers. An American in Bahia by Sergio Assad, and Costa-Tucson by Edwin Guevara. The group focuses on Latin American Music, and contemporary music.
José Luis joined the University of Arizona Fred Fox School of Music faculty as Assistant Professor of Music in General Music Education and Ethnomusicology, where he teaches graduate and undergraduate courses related to Latin American Music.
Past Courses:
MUS100
MUS107
MUS108
MUS 119
MUS 334
MUS 337
MUS468/568