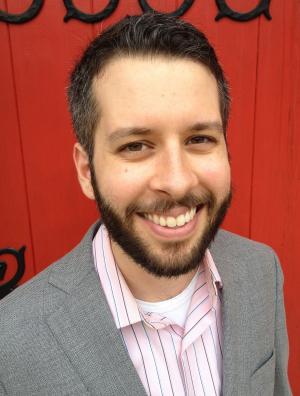 John Muniz
Associate Professor, Music
Music Bldg, Room 122
520-626-1255
PhD, Yale University, 2015
MM (Composition), Boston University, 2009
BA with Highest Honors (Composition), The College of William & Mary, 2007
John Muniz joined the theory faculty in 2015. His work explores topics such as enharmonicism, transformational theory, rhythm/meter from a Hastyan perspective, and the intersection between music theory and analytic philosophy. He has presented at regional conferences, SMT, and international conferences in the UK, Poland, and Canada. He is an active composer whose works are regularly performed in Tucson and abroad.
More information and selected publications are available on his personal website, https://johnmuniz.weebly.com/
Publications:
"Convention and Creativity in Extreme Metal Breakdowns." Forthcoming in The Routledge Handbook of Metal Music Composition (2024/25).
"Rhythmic Processes in Schoenberg's Pierrot lunaire." Music Analysis 40/i (2021): 3–39.
"A Tendency-Transformational Model of Enharmonic Modulations and Related Phenomena." Music Theory Spectrum 41/1 (Spring 2019): 1–20.
"What's Notation Got to Do with It? Enharmonic Modulations Reconsidered." Indiana Theory Review 35/2 (Fall 2018): 117–160.
"Transformation at the Margins of Tonality: Scriabin's Piano Sonata, Op. 64." Music Theory and Analysis 5/1 (April 2018): 1–28.