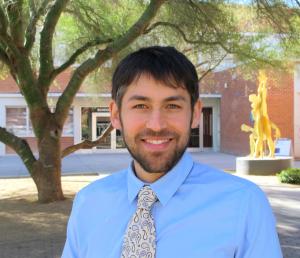 Matthew Mugmon
Associate Professor, Music
Associate Professor, Applied Intercultural Arts Research – GIDP
Music Bldg, Room 238
520-626-0118
BA, University of Pennsylvania
PhD, Harvard University
Matthew Mugmon, who served as the New York Philharmonic Orchestra's Leonard Bernstein Scholar-in-Residence for the 2015–16 season, received his Ph.D. in historical musicology from Harvard University in 2013 and taught at the University of Massachusetts Amherst (2013) before joining the faculty at the University of Arizona in 2014. He is also a Center for University Education Scholarship (CUES) Distinguished Fellow.
Mugmon's research brings together two strands of recent interest in music history: the study of the transmission, reception, and circulation of music in interpersonal networks, and the development of American musical modernism as a transnational phenomenon. His recent book Aaron Copland and the American Legacy of Gustav Mahler (University of Rochester Press, 2019) offers the first detailed exploration of Copland's multifaceted relationship with Mahler's music and its lasting consequences for music in America. It demonstrates that Copland, inspired by Mahler's example, blended modernism and romanticism in shaping a vision for American music in the 20th century. Mugmon illustrates that Copland's career-long engagement with Mahler's music intersected with Copland's own Jewish identity and with his links to such towering figures in American music as Nadia Boulanger, Serge Koussevitzky, and Leonard Bernstein.
Other publications include recent articles inThe Journal of Musicology, Journal of Musicological Research, Music & Letters, the Grove Dictionary of American Music, Rethinking Mahler, and the volume Ambrosiana at Harvard: New Sources of Milanese Chant, which he edited with Thomas Forrest Kelly. Forthcoming work will be published in The Symphonic Repertoire Series, Volume 5: The Symphony in Europe since ca. 1930 and the Americas (Indiana University Press, ed. A. Peter Brown and Brian Hart). His writing has also appeared in the Boston Globe, Amusicology, program notes for the American Symphony Orchestra, and the blog Unsung Symphonies, which he cofounded with music theorist Frank Lehman.
Mugmon has presented at regional, national, and international conferences, as well as colloquia. He has received grants for his research from the American Musicological Society and Harvard University. His paper "Making Mahler French: Bernstein's Case for the Composer in 1960" received the Hollace Anne Schafer Memorial Award from the New England Chapter of the American Musicological Society. In 2012, he served as a panelist in a worldwide discussion, sponsored by the New York Philharmonic Archives, of Leonard Bernstein's tours with the New York Philharmonic.
In his spare time, Mugmon enjoys running, biking, cooking, playing electric bass, and soaking in the Arizona sun with his wife Madeleine and their sons Owen and Emmett.
Selected Publications
Aaron Copland and the American Legacy of Gustav Mahler (Rochester, NY: University of Rochester Press, 2019)
"An Imperfect Mahlerite: Nadia Boulanger and the Reception of Gustav Mahler," The Journal of Musicology 35/1 (2018): 76–103
"Patriotism, Art, and "The Star-Spangled Banner" in World War I: A New Look at the Karl Muck Episode," Journal of Musicoloigical Research 33/1–3 (2014): 4–26
"Beyond the Composer-Conductor Dichotomy: Bernstein's Copland-Inspired Mahler Advocacy," Music & Letters 94/4 (2013): 606–27
Ambrosiana at Harvard: New Sources of Milanese Chant, ed. Thomas Forrest Kelly and Matthew Mugmon (Cambridge, Mass.: Harvard University Press, 2010)
"Long-lost siblings? Houghton's Summer Manuscript and its Possible Milan Counterpart," in Ambrosiana at Harvard: New Sources of Milanese Chant, 23–32 (Cambridge, Mass.: Harvard University Press, 2010)