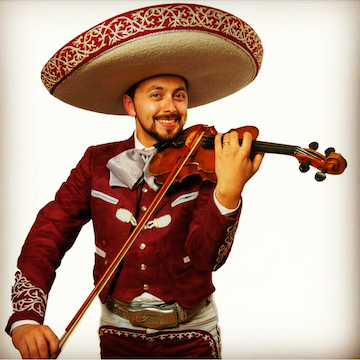 Alberto Ranjel, III
Music Bldg, Room 109
520-621-1655
Alberto Ranjel, III has been a pillar of the mariachi community for nearly his entire life. Known for his dynamic stage presence, vocal prowess, and violin precision, he is also a respected arranger, composer and educator. Even in his teens, he was already sharing the stage with the best of the best: Adalberto Gallegos, Mariachi Cobre and Mariachi Los Camperos, to name a few. In the past decade, Alberto has dedicated himself to the training of young mariachis, becoming a champion of the art form that many gravitate to for his knowledge, experience, and insight.
He has long served as the musical director of El Mariachi Tapatio de Tucson, where he has been a member for sixteen years. Alberto has overseen performances not only across the United States and Mexico, but organized tours in Japan, Italy and Austria, bringing the art form to dozens of cultures and peoples for the first time. A true ambassador of music, Alberto also arranged pieces for Mariachi Tapatio to perform with the Sons of Orpheus, one of Tucson's prominent men's choirs The resulting concerts were a truly unique and beautiful union of classical and folk music, praised by fans of both genres.
Alberto is also an alumnus of the revered Mariachi Los Changuitos Feos. Always eager to give back, Alberto served as co-director of the group from 2006 to 2011, with his brother Luis. He was an artist-in-residence at Salpointe Catholic High School from 2005 to 2007, serving as director of Mariachi Monarca de Salpointe during that time. Since 2000, Alberto has been a favorite teacher and clinician at both the Tucson International Mariachi Conference and the Las Cruces International Mariachi Conference.
His greatest contributions to education occurred from 2008 to 2014. As a faculty member at Tucson High Magnet School, he was the director of Mariachi Ariztlan de Tucson High, and also taught music theory, guitar and choir.
Alberto's musical achievements extend beyond the mariachi world, giving his technique and performances a one-of-a-kind perspective. He earned his Bachelor of Music degree in vocal performance from the University of Arizona in 2005, a top student of world-renowned tenor Grayson Hirst. A tireless performer, he appeared in productions of many operas, such as "La Rondine," "The Student Prince," "The Merry Wives of Windsor," and "The Medium." Wanting to improve his teaching skills, he went on to earn Secondary Teaching Certification in Music and English for the State of Arizona in 2008, and then a Master of Education Leadership degree from Northern Arizona University in 2012.