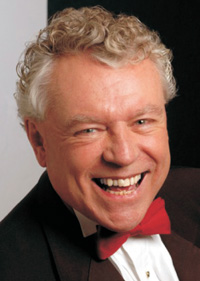 Music Bldg, Room 109
520-621-1655
When pianist/arranger/conductor Jeff Haskell sits down at the piano, something inventive and inspired happens. The word eclectic doesn't even begin to describe his amazing musical dexterity.
Haskell's professional credentials are as varied and vast as his musical talent.
He began his jazz career as a scat-singing boy soprano in Philadelphia. At age 12, he sang and played saxophone professionally, adding the organ a year later. Soon thereafter, Haskell immersed himself in jazz studies with pianist Ray Smythe and organist Jackie Davis, and at age 16, was jamming with saxophonist Lew Tabackin.
The first winner of the first east coast collegiate jazz festival (Villanova), Haskell soon went on to play in Europe with flute great Jeremy Steig and trumpet legend Chet Baker.
Haskell has won three Los Angeles Emmy Awards for his work on the much celebrated children's TV program, Dusty's Treehouse, and critics praised his theme and underscore for the IT show for ABC, for which he received a Los Angeles Emmy nomination. Some of his Hollywood music includes arrangements on two Linda Ronstadt albums, cues for "Dudley Do-Right" and "Fight Club". "Pastiche Americana", a composition written for chorus and orchestra, was performed by The Little Orchestra in Lincoln Center. His "Concerto for Jazz Band and Orchestra" debuted with the Tucson Symphony Orchestra. And he conducted the world premiere of Billy Taylor's suite for jazz trio and big band, "Fiesta In Tucson".
He is also the orchestral conductor for the "Linda Ronstadt Sings Nelson Riddle" concerts, having conducted the Boston Pops, the Chicago, Seattle, San Francisco, Dallas and Baltimore Symphony Orchestras, among others. He's the only person ever hired by the Tucson Symphony in the roles of pianist/conductor, arranger/orchestrator, and vocalist (tenor).
A veteran of hundreds of "jingles", he has recorded a legendary synthesizer album for Capitol Records, and served as music director, arranger and conductor on the Las Vegas/Reno circuit for country music legend Buck Owens.
Haskell received a B.A. in Music Education from West Chester University (PA) and a Masters in Theory from the University of Arizona. While studying for a Doctorate of Musical Arts in Composition from the University of Arizona, he served as the second Director of the Tucson Boys Chorus, which continues to perform extensively in the U.S. and abroad.
He has been honored by the Greater Oro Valley Arts Council as a

Legend of Jazz, and by the Tucson Jazz Society as the third recipient of their Lifetime Achievement Award. He also won the Lifetime Achievement honor from the Tucson/Pima Arts Council in May of 2007.
He is co-founder and musical director of the Tucson Jazz Orchestra and, as a senior faculty member in the School of Music & Dance at the University of Arizona, Haskell is the Area Coordinator of Jazz Studies and Director of the Recording Studio.
More: