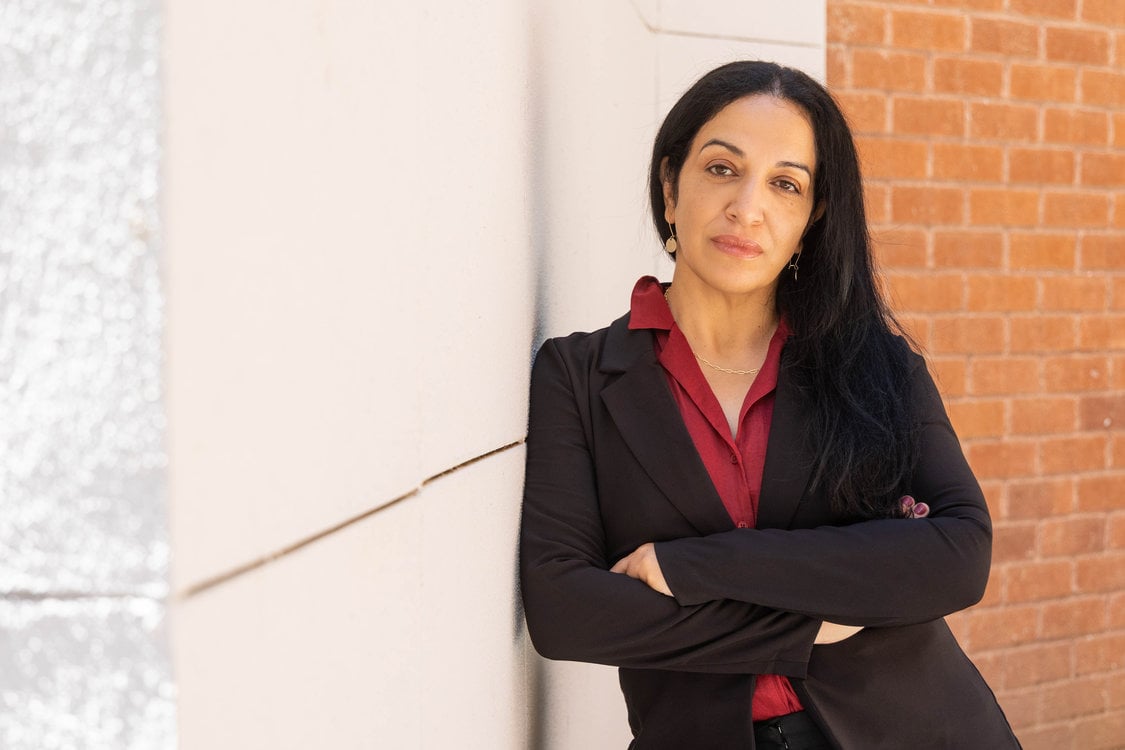 Sama Raena Alshaibi
Professor, Art
Regents Professor
Drama Bldg, Room Room 16
520-621-7575
MFA, University of Colorado at Boulder; BA, Columbia College, Chicago
Sama Alshaibi's work explores the notion of aftermath—the fragmentation and dispossession that violates the individual and a community following the destruction of their social, natural, and built environment. In her photographs and videos, Alshaibi often uses her own body as both subject and medium, a staging site for encounters, peripheries, and refuge, even when carrying the markings of war and dislocation. Alshaibi's sculptural installations evoke the disappearance of the body and act as counter-memorials to war and forced exile. Alshaibi's monograph, Sand Rushes In, was published by Aperture, NYC. It features her 8-year Silsila series, which probes the human dimensions of borders, migration, and ecological demise.
In 2021, Alshaibi was named a Guggenheim Fellow and the recipient of the Phoenix Art Museum's Arlene and Morton Scult Artist Award. She has been featured in several biennials including the Maldives Pavilion at the 55th Venice Biennale (Italy), the 21st International Art Biennial of Santa Cruz de la Sierra (Bolivia, 2020), the 13th Cairo International Biennale (Egypt, 2019), the 2017 Honolulu Biennial (Hawaii), the 2016 Qalandia International Biennial (Haifa), and FotoFest Biennial, Houston (2014). She was also selected as one of 60 artists for the 'State of The Art 2020' (Crystal Bridges Museum of Art/the Momentary, Arkansas, 2020; MOCA, Jacksonville, 2022), and recently held solo exhibitions at Ayyam Gallery (Dubai, 2019) and at Artpace, where she participated as the National Artist in Residence (San Antonio, 2019). Alshaibi received the first prize Project Development Award from the Center (Santa Fe, 2019), the 2018 Artist Grant from the Arizona Commission on The Arts, and the 2017 Visual Arts Grant from the Arab Fund for Arts and Culture (Beirut). She was awarded the prestigious Fulbright Scholar Fellowship in 2014-2015 as part of a year-long residency at the Palestine Museum in Ramallah, where she developed an education program while conducting independent research.
Alshaibi's solo exhibitions also include the Phoenix Art Museum (upcoming, 2022), Artpace (San Antonio, TX, 2019), Ayyam Gallery (Dubai, 2019, 2015), Herbert F. Johnson Museum of Art at Cornell University, NY (2017), Scottsdale Museum of Contemporary Art, AZ (2016); Ayyam Gallery, London (2015); Lawrie Shabibi Gallery, Dubai (2011) and Selma Feriani Gallery, London (2010). Her over 150 group exhibitions include Pen + Brush Gallery (NYC, 2019), American University Museum (Washington D.C., 2018), 2018 Breda Photo Festival (Netherlands), Tucson Museum of Art, AZ (2017), Marta Herford Museum of Art, Germany (2017), CCS Bard Hessel Museum and Galleries, New York (2017), Museum De Wieger, The Netherlands (2017), Palais De La Culture Constantine, Algeria (2015), Pirineos Sur Festival, Spain (2015), Arab American National Museum, Michigan (2015), Venice Art Gallery, Los Angeles (2013), Edge of Arabia, London (2012), Institut Du Monde Arabe, Paris (2012), Maraya Art Centre, Sharjah (2012), and Headlands Center for the Arts, California (2011). She has also exhibited at the Bronx Museum in NYC, and the Museum of Contemporary Art in Denver, CO. Her over 40 video artworks and films have screened in numerous festivals internationally, including Mapping Subjectivity, MoMA (NYC), 24th Instants Video Festival (Mexico and France), Thessaloniki International Film Festival (Greece) and DOKUFEST (Kosovo). Her art residencies include Artpace International Artist Residency (San Antonio), Darat al Funun (Amman), A.M. Qattan Foundation (Ramallah), and Lightwork (NY). Alshaibi's works have been collected by public institutions internationally, including the Center for Creative Photography (Tuscon), the Johnson Museum of Art at Cornell (NY), The Houston Museum of Art (Texas), Nadour (Germany), the Barjeel Collection (Sharjah), En Foco (NYC), and the Museum of Modern and Contemporary Art in Tunis (Tunisia). She has been featured in Photo District News, L'Oile de la Photographie, The Washington Post, Lensculture, NY Times, Ibraaz, Bluin Artinfo, Contact Sheet, Contemporary Practices, Harper's Bazaar, The Guardian, CNN, Huffington Post, and Hysteria.
Born in Basra to an Iraqi father and Palestinian mother, Sama Alshaibi is based in the United States where she is a Regents Professor of Photography, Video, and Imaging at the University of Arizona, Tucson. She holds a BA in Photography from Columbia College Chicago and an MFA in Photography, Video, and Media Arts from the University of Colorado at Boulder.