Angelo Versace
Director of Jazz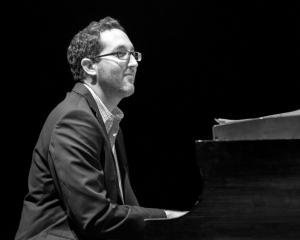 Assistant Professor, Music
Music Bldg, Room 213
520-621-1341
B.M. William Paterson University, 2008
M.M. University of Miami, 2010
D.M.A. University of Miami, 2013
Jazz pianist Angelo Versace has been the Director of Jazz Studies at the University of Arizona since 2014. He attended William Paterson University from 2004-2008, studying with Mulgrew Miller, a seminal figure in jazz and a man whom Versace cites as being a main musical influence. He subsequently earned his Master's of Music and Doctor of Musical Arts degrees from the University of Miami, studying jazz piano, jazz pedagogy, composition, and arranging.
During his time in Miami, Versace was on faculty at the Superior Academy of Music – an award-winning institution backed by the Royal Conservatory Music Development Program. He also worked closely with two high school jazz band programs which found success at the prestigious Essentially Ellington competition: CGCC Community Arts Program and Dillard High School. He began to work for the Tucson Jazz Institute (the two-time winner of the Essentially Ellington competition) after his move to Arizona in July of 2014.
Versace's passion has led him all across the globe. His trio has performed at the North Sea Jazz Festival (Netherlands), the Tucson Jazz Festival (Arizona), the New Orleans Jazz Festival (Louisiana), the Pensacola Jazz Festival (Florida), the Mellon Jazz Festival (Pittsburgh, Pennsylvania), and the Coral Gables Jazz Festival (Miami, Florida).
He has had the privilege of working as a sideman with several internationally recognized artists: Khristian Dentey, Brice Winston, Troy Roberts, Dave Stryker, Roxy Coss, Wycliffe Gordon, Joe Saylor, Tim Ries, Kevin Mahogany, and Ignacio Berroa.
Versace has been contracted as a performer, teacher, composer, arranger, producer, music director, and an engraver. From 2009-2013 Versace held the piano chair in the Mancini Institute Orchestra, a "multi-genre 'cross-over' orchestra" under the direction of Terence Blanchard. He currently tours extensively with Khristian Dentley, and is preparing for two upcoming record releases. The first is a collaboration with Mr. Dentley entitled Easy Simple Life. The second will be the release of his first record as a leader, My Refrain, and will feature Brice Winston.